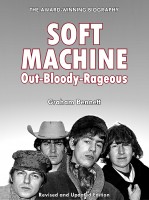 Soft Machine: Out-Bloody-Rageous
by

Graham Bennett
Price:
$5.99 USD.
Words: 159,330. Language: English. Published: October 27, 2014. Categories:
Nonfiction
»
Music
»
Biography
The biography of the pioneering band who shaped psychedelic rock, progressive rock and jazz-rock. It recounts Soft Machine's colourful career and unravels the mystique behind this elusive band. This revised and updated edition includes over a hundred illustrations, a concert file and discography. The first edition won an Award for Excellence in Historical Recorded Sound Research..
Giocare Agli Indiani - Tutto Renato dalla A allo Zero
by

Massimo Del Papa
Price:
$9.99 USD.
Words: 52,170. Language: Italian. Published: April 8, 2016. Categories:
Nonfiction
»
Music
»
Biography
La drammatica vita, scandita nei dischi e nelle singole canzoni, dell'Artista più imprevedibile e incontrollabile della scena italiana. I grandi successi, le crisi, i passi falsi, le risalite, le contraddizioni. Tutto in un Canzoniere come uno specchio, unico per ammissioni e rivelazioni, per raccontare di una identità sempre cercata, sempre cancellata, sempre riscritta...
Related Categories