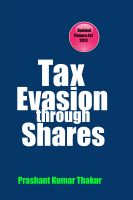 Tax Evasion Through Shares
by

Prashant Thakur
Price:
$10.00 USD.
Words: 52,850. Language: English. Published: September 10, 2013. Categories:
Nonfiction
»
Law
»
Tax law
Tax Evasion Through Shares is written by a tax officer who has devoted twenty years in investigating, enquiring the tax evasion and finally bringing evidences against the tax evaders. The book is primarily a guide for officer of Income Tax Department for investigation in share related cases. The books not only describe the ways of tax evasion, but how to detect, enquire and assess such cases.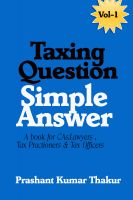 Taxing Question Simple Answer
by

Prashant Thakur
Taxing Question , Simple Answer -Volume -1 is devoted to chartered accountants , lawyers , tax officers and tax practitioners to provide answers to most complex questions and difficult to find answers. The selected 25 tax questions are not easy to find answers and nothing is clear in the Income Tax Act . Supreme Court , High Courts have come to the rescue of everyone to provide answers.