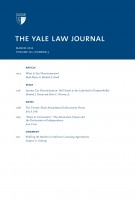 Yale Law Journal: Volume 121, Number 5 - March 2012
by

Yale Law Journal
Yale Law Journal, Vol. 121, No. 5 (March 2012): Principal contributors include Ruth Mason and Michael Knoll (an article on tax discrimination), and Michael Graetz and Alvin Warren, Jr. (a featured essay also analyzing tax discrimination). Student contributions discuss such issues as the 26th Amendment's enforcement power, the Attestation Clause in history, and software licensing agreements.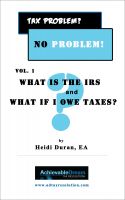 What Is the IRS and What If I Owe Taxes?
by

Heidi Duran
Written by an Enrolled Agent with over a decade of IRS negotiation experience, the "Tax Problem? NO Problem!" series is a must-have for anyone suffering from back taxes. "What Is the IRS and What If I Owe Taxes?" answers such questions as, "Will the IRS put me in jail?", "Can the IRS take my house?" "Will a tax lien ruin my life?" and many more!