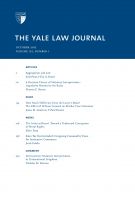 Yale Law Journal: Volume 122, Number 1 - October 2012
Contributors include such noted scholars as Ariel Porat & Eric Posner (aggregation in decisionmaking over many fields of law), Victoria Nourse (legislative history in statutory interpretation), and James Anderson & Paul Heaton (effectiveness of defense counsel in murder cases). Vol. 122, Issue 1 also features student contributions on rights of identity and branding, sales tax, & international law.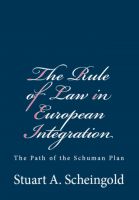 The Rule of Law in European Integration: The Path of the Schuman Plan
This study "remains the definitive analysis of the first crucial decade of the formulation of the Constitution of Europe by at the time a little-known court. It must be read by all serious scholars of European integration."—Malcolm Feeley, in the new Foreword. In the early days of what would become the EU, it had a weak and ill-defined legislature and executive. And the European Court of Justice.