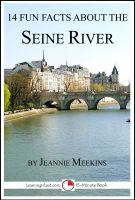 14 Fun Facts About the Seine River
The Seine River is a slow moving river. It begins 1545 feet (471 metres) above sea level and runs 482 miles (776 kilometres) in its journey to the English Channel. Once a major trade route, it is navigable by ocean going ships. The Seine has been subject to monster tides, and great feats of architecture. Its source is a place of worship and its basin was one of the earliest areas settled by man.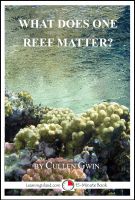 What Does One Reef Matter?
"I saw you dump soda in the water," her mother said. "I just wanted to kill the reef," Janey said quietly. She hung her head. "Why would you want to kill the reef?" her mother asked. "Because it cuts my feet when I go swimming," Janey answered. "Besides," she said. "What would one reef matter? Find out the role one reef plays in the ecosystem and the life of the ocean. Ages 7 and up