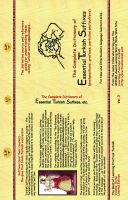 Essential Turkish Suffixes (including postpositions, prefixes, particles and buffers)
Turkish Suffixes - the glue that binds Turkish expression... Turkish suffixes (along with Turkish postpositions, prefixes, particles and buffers) can drive English-speakers to drink. That's because 'agglutination' (i.e. joining multiple suffixes to make new words, phrases, and even sentences) isn't natural to us in English. Whereas in Turkish, it's as natural as breathing.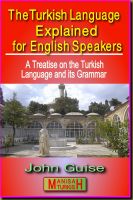 The Turkish Language Explained for English Speakers
This Treatise explains and answers some of the difficulties that the learner of Turkish may encounter along their way. It focuses on the understanding of Turkish grammar and logic with many examples and explanations. There are no practice exercises included as these can be found in many text books or on the internet. It covers the learning process from beginner to intermediate and advanced.