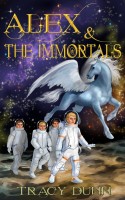 Alex & the Immortals
by

Tracy Dunn
Teleported to Asteroid Eros, Alex and his friends must learn the ancient arts of flying, bottling lightning bolts and mental telepathy to prepare for battle. It's up to them to fight an evil, shape-shifting amoeba, which is killing every living thing. Even with help from Greek mythological heroes like Cyclops, Pegasus, and the gorgon sisters, the warriors are overwhelmed. Can Alex save anyone?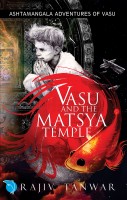 Vasu and the Matsya Temple
by

Rajiv Tanwar
(4.73 from 11 reviews)
On the day of his birth, Vasu is kidnapped. Destiny has chosen him to bring Peace back on Earth. Will he be able to find the long lost Divine Ashtamangala Symbols to defeat the evil Samraat Viraat Shatru? Join Vasu in his quest that takes him on an incredible journey into the depths of Ocean where no Bhoomivaasi has ever been before! The Ashtamangala Trilogy begins...