Tooey, Freckles & Ming In Rainbow Land
by

Iona Danielson
This is the first book in the Tooey, Freckles and Ming series that introduces the reader to all the characters that come together in great love and friendship in Rainbow Land. Children and creatures live in joyous harmony in play. They have an all-day festival that celebrates the meeting and welcoming of new arrivals, enjoy sweet, delicious Rainbow Food and watch fireworks on Rainbow Lake.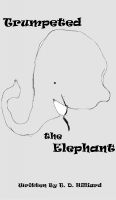 Trumpeted the Elephant
by

T. D. Hilliard
The story of a great big elephant who loves to boast way too much about how big and strong he is, and how a tiny little ant brings him down to size.