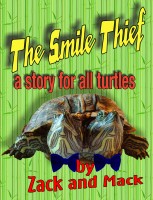 The Smile Thief: A Story For All Turtles
by

Zack and Mack
While The Smile Ambassadors was a novel suitable for all humans, The Smile Thief is a story for all turtles. The story twists and turns as it delves into the struggle of the bale as they make their way through the forbidden wilds. Zack and Mack's second instalment leaves the reader gasping for more as this apologue fits neatly in the center of this trilogy.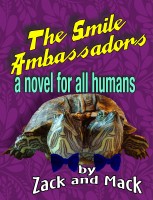 The Smile Ambassadors
by

Zack and Mack
(5.00 from 1 review)
How does a runaway turtle become a Smile Ambassador to the world? Why do humans experience a felicific beatitude upon seeing this unique creature. What is it about a little girl and her pet turtle that has stadium sized crowds flocking to see them? Based upon the extrospections of Zack and Mack, a real, live, two-headed turtle currently living in the Northern Hemisphere.