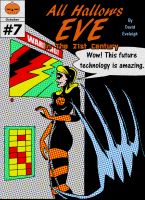 All Hallows Eve In The 21st Century
Ages 9 and up. In this exciting adventure, Eve must journey to the "distant" future of 2013 and face an evil that threatens to consume her very soul. Join our beloved heroine as she learns the importance of holding true to her principles. Also included is a bonus mini comic, "Eve Dies At Midnight".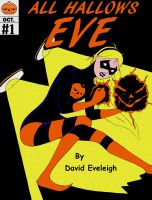 All Hallows Eve
(4.00 from 1 review)
Ages 9 and up. Learn the fantastic origin of our beloved Halloween Heroine. When 13-year-old Eve Halloran dresses as a famous superhero for a costume party, she finds herself imbued with amazing, supernatural powers. But as an evil from World War 2 resurfaces on this shadowy night, she learns that it takes more than empowerment to truly be a hero.