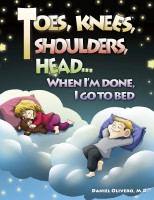 Toes, Knees, Shoulders, Head...When I'm Done I Go To Bed
This sleep hygiene book, authored by a pediatrician, was written as an entertaining, engaging, and educational bedtime story for both the reader and listener. It provides parents with an easy to read instruction manual on providing an appropriate sleep hygiene routine that the child will want to hear over and over again. It's rhyming structure makes the concept of sleep hygiene fun and exciting.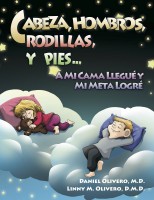 Cabeza, Hombros, Rodillas, Y Pies...A Mi Cama Llegué Y Mi Meta Logré
Este libro sobre la higiene del sueño, cuyo autor es un pediatra, fue escrito como entretenimiento, participación y a la vez como historia antes de dormir, siendo educacional tanto para el lector como para el auditor. Se ofrece a los padres una manera fácil de leer instrucciones manuales en la presentación de la rutina de higiene del sueño adecuada que el niño va a desear escuchar.