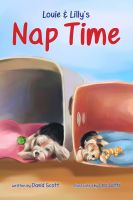 Louie & Lilly's Nap Time
(5.00 from 1 review)
Lovable yorkie puppies Louie and Lilly are very sleepy after playing all morning, so they set out on a quest to find the best place to nap. With beautiful illustrations and a fun, alternating rhyme scheme, this is an adorable children's book to read aloud for nap time, bedtime or any time. Preschoolers will engage with the sweet nursery rhymes and lush artwork, and older kids can read right along.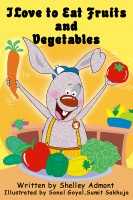 I Love to Eat Fruits and Vegetables
(5.00 from 1 review)
Jimmy, the little bunny, likes to eat candy. He sneaks into the kitchen to find a bag with candies that was hidden inside the cupboard. What happens right after Jimmy climbs up to reach the bag of candy? You will find out when you read this illustrated children's book. Since that day, he starts to develop healthy eating habits and even likes to eat his fruits and vegetables.