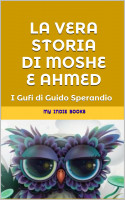 La vera storia di Moshe e Ahmed (Quando un'amicizia è più forte di ogni guerra)
ROMANZO-AVVENTURA. Età: da 9/10 a 14 anni. Moshe è un cavallo che cerca un miraggio. Cerca quello che suo padre gli ha detto essere la sua terra. Scopre che quella terra è già occupata, ma un posticino lo trova, spettatore di un conflitto che travolge la sua famiglia e quella del suo amico Ahmed. La storia di Moshe e Ahmed simboleggia il conflitto attuale Arabo-Israeliano.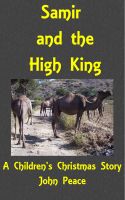 Samir And The High King
Long, long ago in a land at the edge of a desert that howls against the walls of the village, a poor young boy named Samir is sent to work for a strange old man who stays up all night listening to the stars. This imaginative reconstruction of the tale of the Magi will appeal to children aged six and over, and draws on real astronomical research into the real Christmas Star.