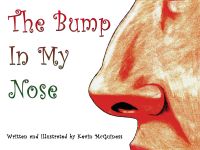 The Bump In My Nose
Based on the successful short film by Kevin McGuiness, "The Bump In My Nose" revolves around a young girl named Marissa Freedberg, who discusses the bump in her nose and other aspects of her appearance that make her uneasy. Throughout the story Marissa struggles and eventually succeeds at finding self-acceptance in spite of a culture that finds diversity difficult to resolve.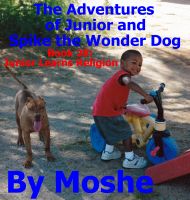 The Adventures of Junior and Spike the Wonder Dog. Book 28: Junior Learns Religion
Pictures and parables of Adam and Eve under the forbidden fruit tree with serpent, Noah's ark, Tower of Babel, Abraham listening to God, Isaac greeting Rebekah, and Jacob seeing the stairway to heaven, Jacob wrestling an angel, Joseph being led to Egypt, baby Moses, Moses and the burning bush, plagues, Red Sea parting, plagues, tablets, Tabernacle, ending with Dad quoting an ancient rabbi, Hillel.