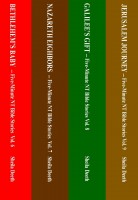 Four-Book New Testament set of the Five-Minute Bible Stories by Sheila Deeth
Gather the kids for an educational field trip through the New Testament. Each story has a valuable moral lesson, plus a short, meditative prayer to wrap things up. They will leave your children begging for "just one more!" This 4-Book Boxed Digital Set contains four complete books: Bethlehem Baby, Nazareth Neighbors, Galilee's Gift and Jerusalem Journey; nearly 400 short stories in all.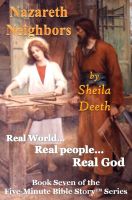 Nazareth Neighbors
Welcome to Nazareth Neighbors, the Seventh installment in the increasingly popular Five-Minute Bible Story™ Series. Author Sheila Deeth extends her exploration of the New Testament period with this artful examination of the so called hidden years in the life of Christ. The reader meets a young, but self-aware Jesus filled with boyish curiosity yet often wise beyond his years.