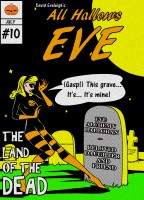 All Hallows Eve: The Land Of The Dead
Join our beloved heroine All Hallows Eve as she journeys into the Afterlife itself to rescue a friend who has lost the will to live. A story to help those who suffer from depression.
The Mean Girl Who Never Speaks
The Mya Dove Case Files start with The Mean Girl Who Never Speaks, a crime short story. There's a new girl at school. Rumour has it she doesn't speak, doesn't smile much, and doesn't play with others. That means she's mean, right? Maybe. Maybe not...