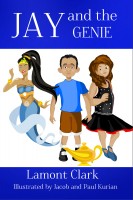 Jay and the Genie
All the kids in 8 year-old Jay's neighborhood in Washington D.C. have gone crazy for Frosted Fruity Smacks, the delicious new cereal especially for kids. Not only is Frosted Fruity Smacks colorful and tasty—every box comes with its own unique surprise! It isn't until he accidentally wishes for something while holding his little toy lamp that Jay realizes his prize is more than meets the eye.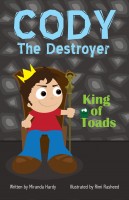 Cody the Destroyer, King of Toads
The excitement of winning was within Cody's grasp until the evil Briana stepped into view. Cody's fun-filled day suddenly turned into a nightmare when he learned he would be forced to go to Briana's birthday party. Determined to get even, Cody and his best friend, Josh, hatched a brilliant plan, but they would have to enter The Swampland Woods to carry it out.