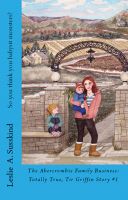 So You Think You Babysit Monsters?
(5.00 from 1 review)
At 13, it's tough enough to fit in. But Mackenzie Abercrombie's a Magic Minder. She babysits baby monsters and keeps them and the local humans safe from each other. With her town's Festival coming up and a cute new boy in her class, there's a lot to worry about on top of being responsible for the kids. But even risking social doom, it's soon clear that a Magic Minder's what everyone needs.