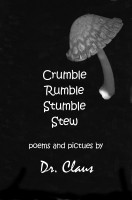 Crumble Rumble Stumble Stew
by

Dr. Claus
Dr. Claus presents 25 classical poems for children. You will meet many of Dr. Claus' most loved characters like: Mymerma The Bird Ding-A-Ling The Bear A Funny Duck Named Quack Quack An Itsy Bitsy Baby Ant Turtle Bear Buggle Wuggles Waffle Cone and many more. Dr. Claus gives you this prescription of rhymes and fun for a happy heart.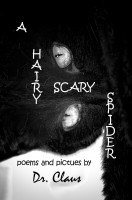 A Hairy Scary Spider
by

Dr. Claus
Dr. Claus presents over fifty poems for children. Discover The Hairy Scary Spider but don't be afraid. You will find laughter and joy with Buggle Wuggles, Ding-A-Ling The Bear, Mymerma The Bird, An Itsy Bitsy Baby Ant, Waffle Cone The Dragon, Turtle Bear, My Kitty and a host of other delightful characters. Share this gift with your children. Also included is "The Day and Night Before Christmas.