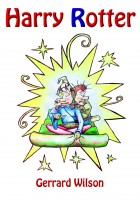 Harry Rotter
Harry Potter? No, silly, she's HARRY ROTTER. Harry Rotter - her real name is Harriet but she prefers to be called Harry - has lost her Magical Marbles. Harry enlists the help of her cousin, Box Privet, to help her retrieve them. At her behest, Box, who is a wizard with all things electronic, melding electronics and magic, makes Harry an electro-­magical wand. Pandemonium ensues.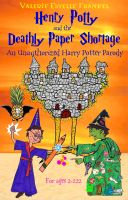 Henry Potty and the Deathly Paper Shortage: The Unauthorized Harry Potter Parody
The devious Lord Revolting has split his soul into seven Plot Devices, from the One Ring to the Really Gross Wooden Eyeball. Can Henry Potty, lousy student and heroic Chosen One, destroy them in time? Join Henry as he duels mimes, droids, blobs, religious extremists, parapsychologists, and the dreaded Tooth Fairy. Unapproved, unendorsed, unofficial, and unstoppable, for ages 2 to 222.