Eternal Springs
(5.00 from 1 review)
Peppered with poetry, quotes, and scripture, these inspiring and thoughtful stories of faith, courage, and life will have you nodding with understanding. This is a journey into the Eternal Springs provided by a life in Christ.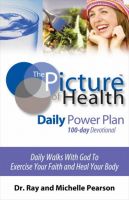 The Picture of Health Daily Power Plan 100-Day Devotional
100 power-packed days of devotionals to challenge you to stay motivated as you say goodbye to the bondage of dieting and disease forever! Anointed teaching, Biblical revelation, and practical application are salted with extraordinary insight, humor, compassion, and testimonies of real-life victories to help you make life-long changes for health.