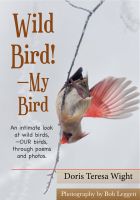 Wild Bird! —My Bird
Over 130 poems, paired with amazing photos, that explore the behavior and nature of wild birds - OUR birds. The lyrics range from playful to thought-provoking and provide a unique and intimate look at the birds that surround us. The photographer, through close observation and attention to detail, perfectly captures the beauty and character of the birds.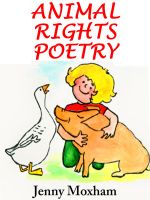 Animal Rights Poetry: 25 Inspirational Animal Poems Vol 1
Longtime vegan and animal rights campaigner, Jenny Moxham proudly presents Volume 1 of insightful Animal Rights Poetry. These 25 poems were written to inspire kindness and compassion for animals and to raise public awareness about the routine suffering inflicted on them at the hands of man. The poems will hopefully inspire readers to take up the cause for animals.