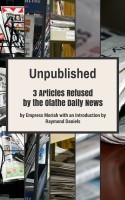 Unpublished - 3 Articles Refused by the Olathe Daily News
by

Moriah Davis
The witty Empress of a landless nation has written several articles during her travels and studies to enlighten other groups on the plight of New Israel. With all the hopes of severing barriers with words, she has faced continual denial, after denial, of her and her assistants' articles, especially in her home town of Olathe, Kansas.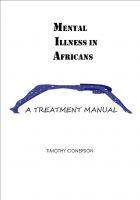 Mental Illness in Africans
by

Timothy Conerson
The layout of this manual is simple. We list the mental illness along with a definition. We then list some of the behaviors that the illness causes. Finally we list suggestions that may help the typical African person become healthy.