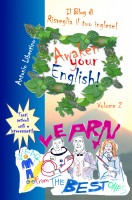 Il Blog di Awaken Your English! Volume 2
Ti piacerebbe scoprire come andare oltre i tuoi obiettivi e parlare l' inglese come una persona che lo parla bene gia' da un sacco di tempo? Vuoi scoprire come far finta di parlare l'inglese come un madrelingua senza metterti nei guai? Puoi scoprire tutto questo e molto altro ancora in queste pagine che contengono il secondo volume del Blog di Awaken Your English.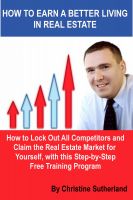 How to Earn a Better Living in Real Estate
This is not a book which tells real estate agents how to do their job - there is plenty of training available which already does that. This book has a laser focus on showing agents how to use very different and easy strategies to get many more referrals, and many more listings, in a way that eliminates competition, no matter how entrenched they may be in the market. Free online and live support.