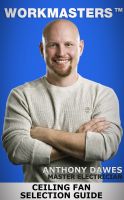 WORKMASTERS™ - Ceiling Fan Selection Guide
Save Money with this FREE WORKMASTERS™ - Ceiling Fan Selection Guide. This eBook provides great step by step instruction on how to truly SAVE money on your utility bills. Master Electrician and Electrical Expert Anthony Dawes provides easy DIY outlines and How To insight for Ceiling Fan installations and do it yourself projects. This is the first eBook in the WORKMASTERS™ How To Series.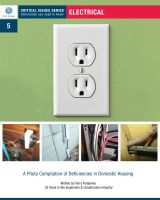 Electrical
Over 100 Inspection pictures and technical illustrations to help you get to know and SEE the real deal with actual Electrical issues in today's homes. This series is designed to help you when buying or investigating any home and property. This all new product is a big heads up on the buyer beware topic. Terry Fulljames is a 25 year home builder, building inspector.