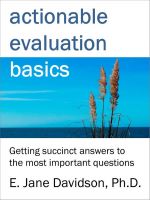 Actionable Evaluation Basics: Getting succinct answers to the most important questions [minibook]
(5.00 from 4 reviews)
Avoid getting lost in indicators, measures, and analysis methods; use this guide to get clear, well-reasoned, insightful answers to the most important questions. Great tips for reporting that is succinct and straight-to-the-point without falling into the trap of oversimplification. This easy-to-read, informative minibook gives a practical overview of 6 elements essential for actionable evaluation.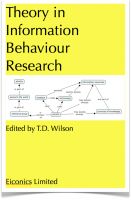 Theory in Information Behaviour Research
A collection of chapters on key theories employed in research into information behaviour, i.e., how people interact with information. The chapters are written by known researchers who have employed the theories in their work.