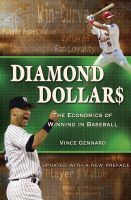 Diamond Dollars: The Economics of Winning in Baseball
An insightful, provocative analysis of the business of baseball by a consultant to MLB teams. Gennaro addresses key questions that affect how teams make decisions about their roster and their bottom line. How does winning affect revenue? What is the relative cost of developing talent vs. buying it in the free agent market? What is the dollar value of Cubs' fans loyalty? Gennaro does the math.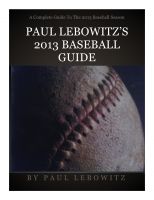 Paul Lebowitz's 2013 Baseball Guide
Paul Lebowitz's 2013 Baseball Guide is an invaluable part of preparing and following the 2013 Baseball Season. With vital statistics, player information, additions, subtractions, fantasy suggestions, breakout players, predictions and essays, the book is packed with information you won't get anywhere else.