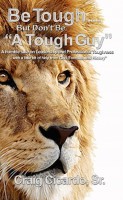 Be Tough ... But Don't Be "A Tough Guy"
(5.00 from 1 review)
Be Tough ...But Don't be "A Tough Guy" is for today's leaders and those that strive to be. It shares the idea of "toughness" being the combination of serving and caring for those they lead while demonstrating exemplary dignity and class. It is a guide for leaders who believe in this combination of compassion and toughness, and are committed to the values that will lead to their team's success.