Sub-categories:
Curiosities & wonders | Questions & answers | Trivia | Bibliographies & indices | Yearbooks & annuals | Catalogs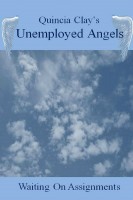 Unemployed Angels Waiting on Assignments
(5.00 from 1 review)
Unemployed Angels, an unorthodox approach to an age old conversation of angels and their role in our day to day lives. Quincia Clay offers experiences and victories when encountered with angelic intervention; information, references and prayers for our most common concerns. This book will inspire and empower you that God has angels just waiting to minister to you.