Sub-categories:
Curiosities & wonders | Questions & answers | Trivia | Bibliographies & indices | Yearbooks & annuals | Catalogs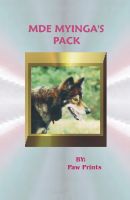 Mde Myinga's Pack
(5.00 from 5 reviews)
This is a color illustrated biographical account of raising a wolf pup in a home environment. It documents many of both the wonderful and not so great aspects of the fifteen year adventure. It is hoped the book will not only entertain but will also help add to the understanding of these wonderful animals. The reader will come away knowing why having a wolf or wolf hybrid can be very challenging.