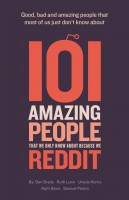 I0I Amazing People That We Only Know About Because We Reddit
Inspired by true stories discovered on reddit.com of incredible people that most of us don't know about. This book is a quirky and fascinating collection of people who have changed history, performed amazing feats - or just been incredibly lucky. A trivia-filled book to dip into and share with friends and family.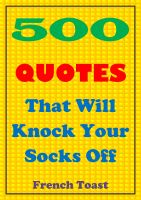 500 Quotes That Will Knock Your Socks Off
'A chip on the shoulder is a sure sign of wood higher up.' 'Lack of forgiveness is like a paper cut that never goes away.' 'Do not make your mind a dumping ground for other people's garbage.' 'It is easier to do a job right than to explain why you didn't.' These are just a few of the 500 quotes in this book from past presidents, philosophers, writers, scientists and a few notable nobodies.