Sub-categories:
China | Asia / Southeast Asia | India & southern Asia | Asia / Japan | Asia / Central Asia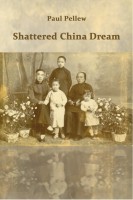 Shattered China Dream
by

Paul Pellew
For 100 years, three generations of the author's Anglo-Chinese family lived in China. They were unfairly treated due to their mixed blood, particularly in the era of Mao. After more than 20 years of studying, researching and verifying Chinese Modern History as well as family history, the author tells a remarkable true story of three generations living in China and tracing their British ancestry.