Sub-categories:
Egypt | Rome | Greece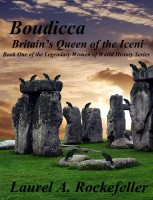 Boudicca: Britain's Queen of the Iceni
by

Laurel A. Rockefeller
(4.00 from 7 reviews)
Why is The Morrígan's raven crying? Only Britons with hearts for true liberty know! In 43 CE Roman conquest of Britannia seems all but certain -- until a chance meeting between King Prasutagus of the Iceni and a runaway slave of royal decent from the Aedui tribe in Gaul changes the fate of the British islands forever. Tacitus meets modern archaeology in this exciting non-fiction tale!