Sub-categories:
Africa / South / Republic of South Africa | Western region | Central region | Northern region | Eastern region | South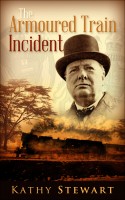 The Armoured Train Incident
by

Kathy Stewart
Price:
$0.99 USD.
Words: 6,250. Language: English. Published: November 10, 2014. Categories:
Nonfiction
»
History
»
Africa
On 15 November 1899, near the start of the Anglo-Boer War, an armoured train with a young Winston Churchill aboard ground its way through the misty hinterland of Natal, South Africa. The Boers, fearsome, brave Afrikaner farmers known for their marksmanship, had proved to be a formidable force. As the train steamed along, the soldiers were aware the elusive foe could strike at any time.