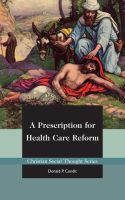 A Prescription for Health Care Reform
by

Donald Condit
Rising costs and demographic realities render the current American health care system unsustainable. The situation presents a particular challenge for Christians who recognize that access to health care is a basic requirement of a just social order. Physician Donald Condit, drawing on an impressive array of empirical research, skillfully applies the principles of Catholic social teaching to...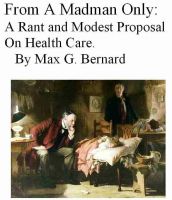 From A Madman Only: A Rant and Modest Proposal on Health Care
by

Max G. Bernard
The author proposes a bold three step plan: 1. Criminalize private health insurance. 2. Provide free comprehensive health care to every human being in the U.S. without enrollment, co-pays, deductibles, exclusions, or premiums. 3. Pay for it all out of general tax revenue. The insurance industry's worst nightmare, way beyond the mild proposals of "public option" or even "single payer."