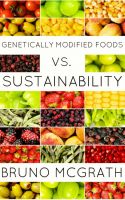 Genetically Modified Foods vs. Sustainability
(5.00 from 1 review)
"We can't solve problems by using the same kind of thinking we used when we created them." – Albert Einstein This ebook points out the surrounding issues of genetically modified fruit and vegetables that consumers are unaware of. While several parties defend the use of technology to create food, it appears that little is being done to increase awareness about this matter to the end consumer.
The Shire: Glendalf's Guide to Cultivating Your Future Self
(5.00 from 1 review)
The Shire is a real place, and it really is in Middle-earth. located on the verdant slopes of the most active volcano on the planet. This book is the visionary founder's introduction to the magic and mystery of the location and the potent elemental energies it brings to life. Glendalf offers an insightful look at some of the follies of modern culture, and often solutions from Elven science...