Understanding the Highly Sensitive Child: Seeing an Overwhelming World through Their Eyes
It's not easy to be a highly sensitive child. Nor is it always easy to raise, care for, guide and teach a highly sensitive child. Because the highly sensitive child experiences the world a little differently, and that can be difficult to understand. This book aims to help you experience the world from the child's perspective, so that you can better understand them and help them to grow and thrive.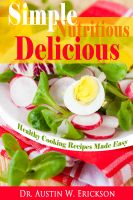 Simple. Nutritious. Delicious.
Quick and easy to make healthy recipes created by Dr. Austin Erickson, The Cooking Chiropractor. These recipes feature very healthy meals that use simple methods to prepare and cover breakfast, lunch, dinner, smoothies and juices.