The Song Creation Formula: 7 Easy Steps to Writing Your Song
This book is for people who've never written a song as well as songwriters looking for new inspiration. In "7 Easy Steps to Writing Your Song", you'll have a step by step guide to write your first song or write a song in a new way, breaking old patterns. Interviews: Jim Cuddy (Blue Rodeo), Greig Nori (Treble Charger), Oh Susanna, Jeremy Fisher, Kat Goldman, Luke Doucet (Whitehorse), Craig Northey.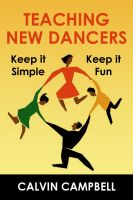 Teaching New Dancers -- Keep it Simple Keep it Fun
Teaching New Dancers is written for leaders who want to teach easy dances to people who have never danced or seldom dance. It is a collection of dances and a teaching plan specifically designed for the needs of schoolteachers, church youth ministers, recreation department personnel, camp leaders, recreation directors for retirement centers, camp councilors, etc.