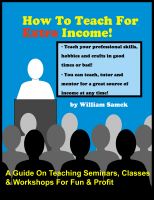 How To Teach For Extra Income!
This book is a training manual to get business people, hobbyists, craftsman and professionals started in the field of teaching classes, seminars and workshops. If covers all aspects of getting a person prepared to offer an education course for income or as a way of promoting their businesses or services.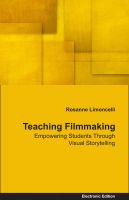 Teaching Filmmaking Empowering Students Through Visual Storytelling
This study tells the story of a filmmakers workshop, focusing on four of the students who took part in the class, from the point of view of their teacher/researcher who follows them on their journey. To read this journal-based study is to experience the thoughts, hopes, and struggles of the students and the teacher as they share the process of teaching and learning.