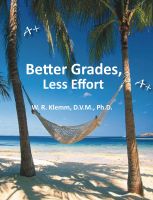 Better Grades, Less Effort
by

W. R. Klemm
(4.83 from 6 reviews)
This book is for any working professional engaged in on-the-job training programs. It will also help workers master their field and become more competent — more likely to be successful. The book will have special value for students, especially those in high school or college. It will also help elementary school children, though the tips should be read and explained by the parents.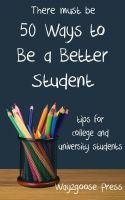 Fifty Ways to Be a Better Student: Tips for College and University Students
by

Wayzgoose Press
This little book provides a collection of tips and reminders for taking care of yourself and having a productive and happy time as you study. Whether you are an international student, an older non-traditional student, a student at a community college, or a "traditional" freshman at a four-year-college or university, there is a tip here to help you. Get a copy for yourself – or a student you love!