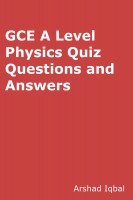 GCE A Level Physics Quiz Questions and Answers
by

Arshad Iqbal
GCE A level physics quiz based eBook has 668 multiple choice questions with answers (MCQs). Physics quizzes are on accelerated motion, AC current, capacitance, charged particles, circular motion, communication systems, electric current, potential difference, resistance, electric field, electromagnetic induction, electromagnetism, magnetic field, electronics, forces, vectors, moments, gravitation.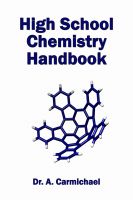 High School Chemistry Handbook
by

Angus Carmichael
(5.00 from 3 reviews)
This second edition covers the topics met in high school chemistry courses. The succinctly written units contain comprehensive explanations supported by diagrams and worked examples. The final section of the book holds useful reference material for experimental work and offers guidance on how to write laboratory reports. Also included are practice questions with solutions and a glossary of terms.
Related Categories