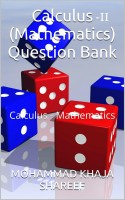 Calculus-II (Mathematics) Question Bank
by

Mohmmad Khaja Shareef
Foreword: 1. Basically Targeted to All Engineering Entrance Exams. 2. Useful to 11th Class and 12th Class (Intermediate) Mathematics Students. 3. We wish that this Question Bank will win the hearts of the students and teaching faculty also. 4. Useful to Class-I competitive exams like Civil Services, Bank Probationary Officers and Staff Selection Commission etc.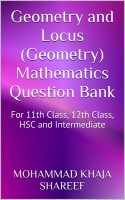 Geometry and Locus (Geometry) Mathematics Question Bank
by

Mohmmad Khaja Shareef
ABOUT THIS QUESTION BANK: 1. This Question Bank provides sufficiently strong base to our students for the purpose of Public Exams and All Engineering Entrance Exams. 2. This Question Bank begins with Contents, Concepts and Formulae and Problems with Solutions. 3. Answers provided to Very Short Answer Type Questions, Short Answer Type Questions And Long Answer Type Questions.