Sub-categories:
American | European | African | Asian | Anthologies | Russian | Middle Eastern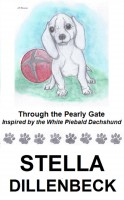 Through the Pearly Gate
The Dachshund adventures continue with Pearl, a white piebald Dachshund. We grieve the loss of her original family and rejoice as a friend of the family takes her into his home and heart. She lives the life all Dachshunds were born to live. Join me in this exciting adventure!