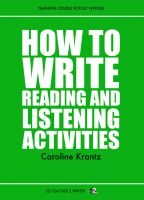 How To Write Reading And Listening Activities
by

Caroline Krantz
There's more to writing ELT reading and listening comprehension activities than meets the eye! This module, written by experienced author Caroline Krantz, deconstructs and demystifies the process of writing the full range of great comprehension activities that really work.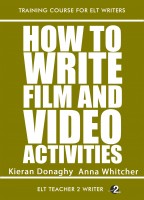 How To Write Film And Video Activities
by

Kieran Donaghy

&

Anna Whitcher
We are living in a video age – and so are our students. In this ebook Kieran Donaghy and Anna Whitcher help the materials writer choose appropriate video for the ELT classroom, and discuss criteria for selection such as syllabus fit, language level, length, relevance and task potential. Once a great video has been chosen, they'll show you how to write a variety of activities to exploit it.
Related Categories