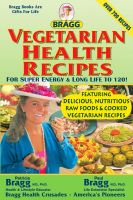 Bragg Vegetarian Health Recipes For Super energy & Long Life to 120!
by

Patricia Bragg and Paul Bragg
Written by father-daughter team Patricia and Paul C. Bragg, both NDs and PhDs in the field of nutrition, Bragg Vegetarian Health Recipes for Super Energy and Long Life to 120 features over 300 pages and 700 recipes, devoted to both raw and cooked vegetarian recipes for salads, dressings, soups, entrees, desserts, and more. The focus is on natural nutrition, and cholesterol- and toxin-free meals.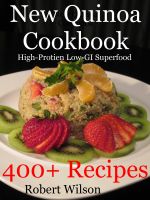 New Quinoa Cookbook: High-Protein Low-GI Gluten-Free Superfood Recipes
by

Robert Wilson
New Quinoa Cookbook is a collection of over 400 recipes that feature quinoa. There are recipes for Pasta Dishes, Meat Dishes, Poultry Dishes, Meatless Dishes, Casseroles, Soups & Stews, Pilafs, Salads, Breads, Breakfast, and Desserts. Although meat dishes are included, most of the recipes require no meat, making this an excellent source for High-Protein vegetarian and vegan recipes.