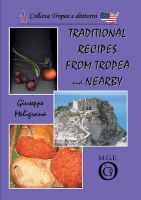 Traditional recipes from Tropea and nearby
by

Giuseppe Meligrana
In the age of aggressive and persuasive food globalization, all over the world one can see the slow but inexorable decline of local traditional food whilst uniform global cookery takes its place as a direct result of the globalizing tendencies. This book aims at show the English speaking people that our cuisine is high in quality, it is unadulterated and it guarantees a long healthy life.
The No Recipe Cookbook
by

Gary Nichols
Want to become a wizard of spices, a maestro of herbs? The No Recipe Cookbook will take your cooking from a chore to a culinary challenge and will bring you accolades at your dining room table that you never dreamed possible.With Gary L. Nichols' three easy to learn cooking principles, you can expand your cooking horizons beyond the pages of any cookbook and into the celestial heavens.
Related Categories