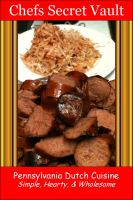 Pennsylvania Dutch Cuisine - Simple, Hearty, & Wholesome
The lucky people who have eaten Pennsylvania Dutch cuisine, or Amish cooking, know what everyone else is missing. The homemade breads, pies, and cookies are delicious. But, their meals are scrumptious from soup to dessert. You don't have to visit Lancaster, Pennsylvania to enjoy these treats. You can prepare them yourself at home for friends and family. Enjoy these 20 favorite recipes!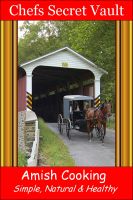 Amish Cooking - Simple, Natural & Healthy
Those of you lucky enough to have enjoyed Amish food will enjoy making those famous recipes in your own kitchen. Those of you who haven't tried Amish food yet are in for a treat. Traditional Amish food brings back memories of a more simple life and happy memories. Fresh farm produce, home backed pastries, and the aroma of foods from days gone by will have your family enjoying meal time.