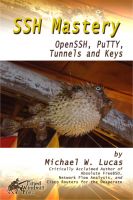 SSH Mastery: OpenSSH, PuTTY, Tunnels and Keys
(4.63 from 8 reviews)
Secure Shell (SSH) lets systems administrators securely manage remote systems. But most people only use the bare minimum SSH offers. Used properly, SSH simplifies your job. This book saves you from sifting a decade of obsolete online tutorials and quickly gets you running:SSH with the OpenSSH server and the PuTTY and OpenSSH clients. Master SSH with SSH Mastery.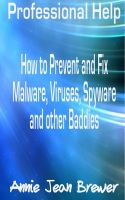 Professional Help: How to Prevent and Fix Malware, Viruses, Spyware and Other Baddies
(4.00 from 1 review)
Are you tired of malware sloiwing your computer down? Are you sick of toolbars and popups? Do you know what to do if a virus strikes? Get Professional Help! I have worked on computers professionally since 2002, and these are the exact same steps and software that I use to prevent infections and clean infected systems. Now instead of tracking down the local guru, you can fix it yourself!