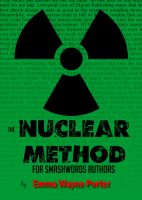 The Nuclear Method for Smashwords Authors
(4.60 from 5 reviews)
Having trouble passing AutoVetter? Is your book's formatting FUBAR? Can't make it into the premium catalog? As promised, this guide walks users through the mysterious Nuclear Method, step by step. This beautifully destructive process blasts away latent Microsoft Word code, leaving your text squeaky-clean and ready for conversion.
Self-Publishers Monthly, November-December 2013
Realistic advice on the latest self-publishing techniques from a stellar list of expert columnists, plus hands-on, practical tools for the publication and promotion of e-Books and paperbacks at little or no cost to the writer. A treasure trove of short, low-hype reports with minimal technical jargon, plus live hypertext links to free and useful resources.