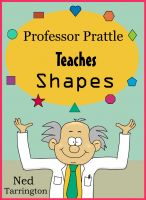 Professor Prattle Teaches Shapes
(5.00 from 1 review)
Professor Prattle presents various simple two-dimensional shapes for young children to recognize. Eleven shapes are covered, including the circle, square and rectangle. The book also includes some basic counting practice. With 19 illustrations and 240 words, this colorful picture book is most appropriate for children ages 1 to 5.
God's Wonders, The Monarch
(5.00 from 1 review)
A child discovers the life cycle of a Monarch. A wonderfilled story revealing one of the miracles of God's creation.