Vince Stead's 110 Jobs Almost Any Teenager Can Start!
by

Vince Stead
Just because you might be young, does not mean you cannot start your own business! If you're at that turning road in your life, between going to college, working, or joining the military, you should check out this book, so you can start your own business right away! This book covers all kinds of businesses, that almost any teenager can start, and adults too!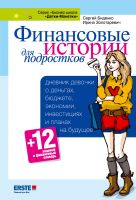 Финансовые истории для подростков
by

Sergey Bidenko
Эта книга – дневник школьницы, которой родители предложили планировать свой личный бюджет самостоятельно. Каждый месяц девочка прогнозирует свои расходы и составляет финансовый отчет. По договоренности с родителями она записывает свои выводы и наблюдения, идеи и мысли в личный дневник.